2017 Player Point Standings
| | | |
| --- | --- | --- |
| 1 | Jacob Dehne | 400.0 |
| 2 | Nick Myhre | 390.0 |
| 3 | Rick Kuhn | 327.5 |
| 4 | Justin Redding | 300.0 |
| 5 | Tyler Reisenauer | 282.5 |
| 6 | Mitch Fifer | 200.0 |
| 7 | Parker Dire | 160.0 |
| 8 | Brandon Wilkens | 158.3 |
| 9 | Branden Boff | 150.0 |
| 9 | Gage Stromme | 150.0 |
2017 Senior Player Point Standings
| | | |
| --- | --- | --- |
| 1 | Dave Andrisen | 235.0 |
| 2 | Randy Westby | 200.0 |
| 3 | Richard Tentis | 160.0 |
| 4 | Mark Ohlhauser | 139.4 |
| 5 | Perry Bohl | 105.0 |
| 6 | Dan Ystebo | 100.0 |
| 7 | Jay Myhre | 85.0 |
| 8 | Mark Setterlund | 80.0 |
| 8 | Kent Spriggs | 80.0 |
| 10 | Mel Hauck | 60.0 |
| 10 | Darrell Burkland | 60.0 |
Latest News
Updated 03/18
Major changes in some rules go into effect January 1, 2019
Includes changes to: Stroke and Distance penalty for lost or out of bounds, dropping of ball, repairing spike marks, leaving flagstick in the hole and time allowed to search for lost ball.
The new Rudy Zupetz Learning Center at Souris Valley Golf Course
The Speed Limit For Putting Greens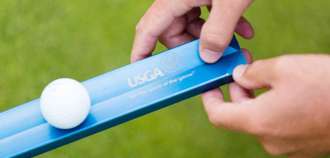 Maintaining appropriate putting green speeds is challenging because it involves both science and subjectivity. Green speed can also be a very emotional subject among golfers. Some see faster green speeds as more desirable, but they may not appreciate the increased maintenance costs and slower pace of play that often accompany faster greens.
Into the late 1970s, when the USGA Stimpmeter® was introduced, green speeds were much slower than they are today. The average putting green speed in 1978, measured by USGA agronomists at hundreds of courses around the United States, was 6 feet 6 inches. The average green speed today is considerably faster.